Jointly published by:
International Work Group on Indigenous Affairs (IWGIA), Copenhagen, and the Center for Orang Asli Concerns (COAC), Subang Jaya.
as IWGIA Document No. 95.
May 2000
285+xxvi pages
26 tables; 3 maps; 81 plates
15cm x 22.5 cm
limp cover
The Orang Asli and the Contest for Resources traces the history of the indigenous minority peoples of Peninsular Malaysia from early times to the present; from when the Orang Asli were an independent and autonomous people, to a situation where others are seeking to control their lives today. It argues that development programmes and policies for the Orang Asli, cloaked in a policy of assimilation and integration into the mainstream society, have a single ideological objective: to enable the control of the Orang Asli and to control their traditional territories and resources.
The moves to diminish Orang Asli autonomy and the concurrent contest for their traditional territories and resources invariably cause much social stress in Orang Asli communities. The Orang Asli and the Contest for Resources describes how this common experience helped the development of an Orang Asli political consciousness beyond the local level such that a new Orang Asli indigenousness emerged as a political strategy for more effective affirmation of their rights.
However, because aspirations and motivations vary between individual Orang Asli, the state is able to exploit such differences and set the Orang Asli against themselves, especially in the contest for resources. Towards this end, The Orang Asli and the Contest for Resources examines how the Malaysian state continues to effectively control the Orang Asli as a people and, as a consequence, exercise control over their traditional territories and traditional resources as well.
Contents:
Introduction to the people and the study
Literature review and conceptual framework
Orang Asli in history and early politics
Policies for a people
Controlling a people, controlling resources
The contest for resources: Orang Asli identity and empowerment Orang Asli
political activism at the close of the millennium
Orang Asli representivity: a resource for the state
A conclusion for a beginning
ORDERS FROM WITHIN MALAYSIA
RM35.00 at the bookshops, but being made available to you at:
RM30.00 (inclusive of local postage)
Cheques must be in Malaysian Ringgit and made payable to:
COAC SERVICES
P.O. Box 3052
47590 Subang Jaya, Malaysia
ORDERS FROM OUTSIDE MALAYSIA
Asia (excluding Japan and Taiwan) - USD 9.00
All other countries - USD15.00
Add:
Surface Mail Postage (all countries) - USD 1.50
Air Mail Postage
Asia - USD 4.00
Europe - USD 5.00
America/Africa - USD 6.00
Cheques in USD are to be made payable to:
A. Baer, Department of Zoology, Oregon State University, 3029 Cordley Hall, Corvallis, Oregon 97331-2914, USA.
Note: In Malaysia, cheques in foreign currencies are subject to local and home bank commissions totalling USD12.00. Hence if you wish to send personal cheques directly to COAC SERVICES, please add USD12.00 to the rates given above.
All books will be despatched from Malaysia.
For enquiries (and negotiations), contact: coac@maxis.net.my
---
Health Disease and Survival
A new book written by Adela Baer and published by COAC.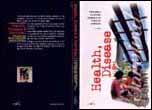 The book has over 200 pages including photos and tables, published Feb 1999. Topics include: Health and health surveys by aboriginal subgroup. Demography. Genetics. Timelines on health research, The history of malaria in Malaysia. Malaria, genes and culture. Orang Asli nutrition. Maternal health. Survival in the past and today. The future health of Orang Asli. The Seboi tragedy.
Reviews
Zuzanna Olszewska, in Cultural Survival Quarterly, Winter, 1999 issue : The book...shows how an understanding of Orang Asli health...is vital to their future welfare. [It] is an important step forward in...two important areas: the existing medical knowledge about the Orang Asli, and the way the government fails to apply that knowledge for the purposes of better health care for them.
R. K. Dentan, Journal of Southeast Asian Studies, Sept., 1999: ...indispensable for anyone interested in the genetics and health of Orang Asli...The raw numbers...contitute a dismal indictment of the health services the Malaysian government provides Orang Asli. Baer's rather dry scientific style, almost completely devoid of polemics, makes it all the more clear how bad things are.
George Appell, President of the Borneo Research Council: ...splendid book...an important work!
Earl of Cranbrook: ...I found [it] fascinating...
Vanessa Griffin, Coordinator, Gender and Development Programme, Asia Pacific Development Center, Kuala Lumpur: ...[The book] is very good, but the health situation is appalling. [About] women's health, and maternal and child health, there is a lot of information and all of it is dire...The book is very well documented and spare in its writing, which makes it all the more clear how bad things are....
All profits from the book go towards the Centre for Orang Asli Concerns - COAC.
To order the book please send a draft drawn in Malaysia payable to COAC SERVICES for RM 35.00 to: Centre for Orang Asli Concerns, PO Box 3052, 47590 Subang Jaya, Malaysia. OR send a cheque for $12 payable to A BAER, Department of Zoology, Oregon State University, Corvallis Oregon, 97331-2914 USA.
---
To purchase Temiar music and books about the Temiar then please Click Here